Training sessions
Search training session
This page gives you a handy overview of all training sessions that have been created and approved.
In the left column you can easily filter the results by clicking on an author, age category, number of players or number of goalkeepers. You can also choose to use the 'Quick search' function to search for a specific word in the training title.
On the right you will see a list of all the trainings, you will also immediately see for which age group the training is and for how many players & goalkeepers. By clicking on it, you will see more details.
If the training has not yet been validated, the author can still edit it. Once the training has been validated, the author will no longer be able to do so. After the validation is done, only the user who validates the training can change it.
Add training session
When you click on the button 'Add training' in the top left corner, you can start creating your own training.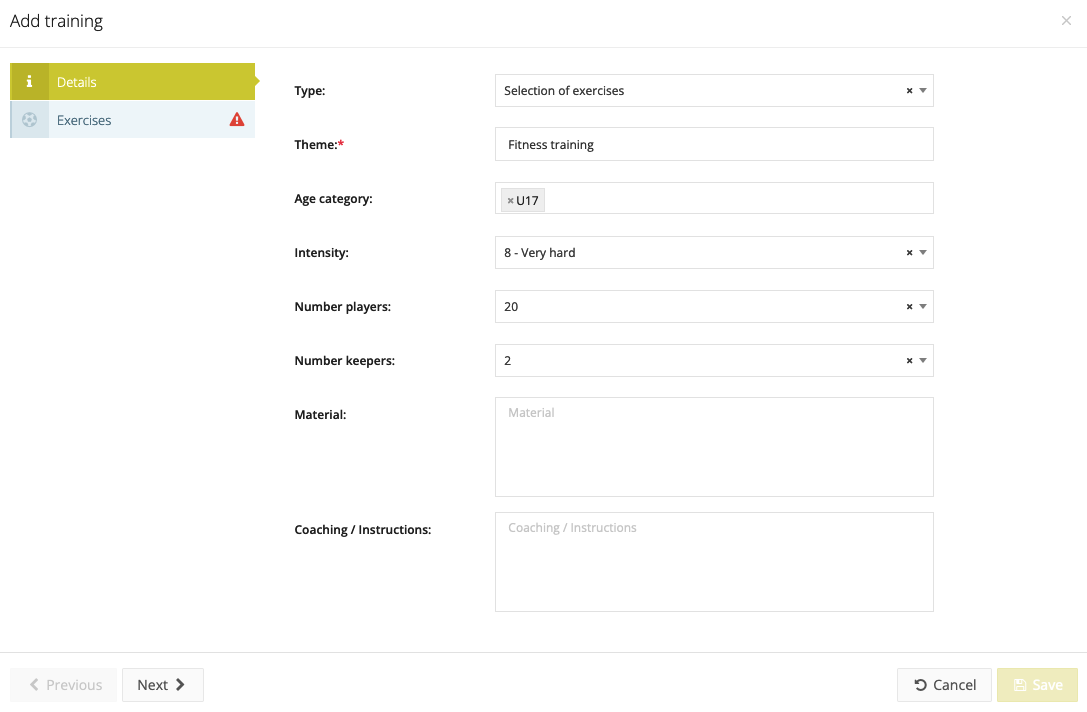 When creating a training, you should follow these steps:
Details
Here you can enter general information about the training such as the theme, the age group, the intensity and the number of players & goalkeepers. The most important thing here is the type of training you want to create. You can choose to add a file. This is a completed training session on which the different exercises are shown. You can upload the file below.
Exercises
You can also choose to make a selection of exercises. If you choose this option, a second step will be displayed on the left, which you have to fill in. In this second step you can fill in the content of the training. You can choose to add existing exercises, which are listed under the previous tab 'Exercises', or you can create new exercises.
---
Questions about this article? Send an e-mail to support@prosoccerdata.com
---