How to register an injury?
You can register an injury in the 'Injury history' tab of the player's file by clicking on the green 'Add' button. A pop-up will open where you can enter the details of the injury.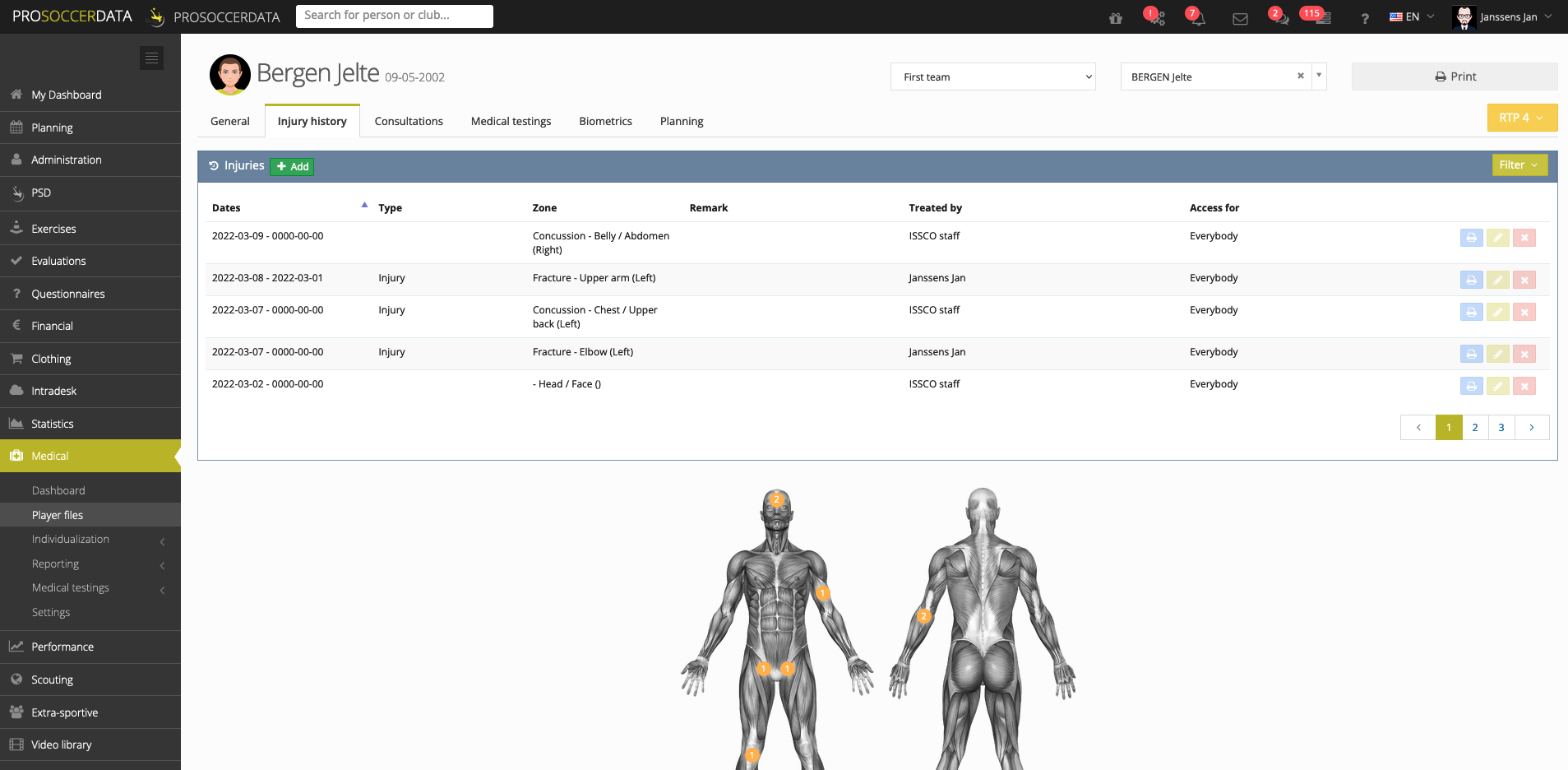 Diagnose
Access for: who has access to this injury?

Everybody = all staff members with the right 'Medical data access' on that team
Doctor = all users with the right 'Set medical user profile' on doctor
Doctor + Physiotherapist = all users with the right 'Set medical user profile' on doctor or physiotherapist
Begin: when did the injury occur?
Diagnose: choice between injury, problem or disease
Zone: where exactly does the player suffer?
Detail zone: any further details on the selected zone
Side: on which side of the body is the injury?
Specifications of the injury: clarification of the injury
Remarks: any remarks about the injury
Information diagnose
Injury fall back: yes or no? If yes, please enter the date of the first injury
Cause: overload or acute? If acute see following points
When did the injury occur: training, game or in private life
Type of training/game: depending on the choice above, you will get different options here
Player's position when injury occured: choose between goalkeeper, defender, midfielder or striker
Type of surface: grass, synthetic or other
Contact with other player: no, yes or yes with an object
Action executed by the player: choice of several possibilities
Foul committed on the player: choice of several possibilities
Prognosis
When is the player expected to be available again: enter date
Effective end date: the date when the injury has healed completely
Extra info: free text field to give more info on the prognosis.
As soon as the effective end date is in the past, the injury will disappear from the 'General' tab in the player's file.
After registering the injury, a new pop-up will open in which you can change the player's schedule. The coach of the player's team will also see this new schedule on his dashboard under the block 'Injuries'.
---
Questions about this article? Send an e-mail to support@prosoccerdata.com
---