Player profile
You can easily look up a player by entering his/her name in the search bar at the top of the screen. On the individual profile page, all information registered by different staff members is centralised:
Personal: All kinds of personal data such as date of birth, nationality, position, club history are grouped together here. This information can be changed by clicking on the yellow 'Edit' button.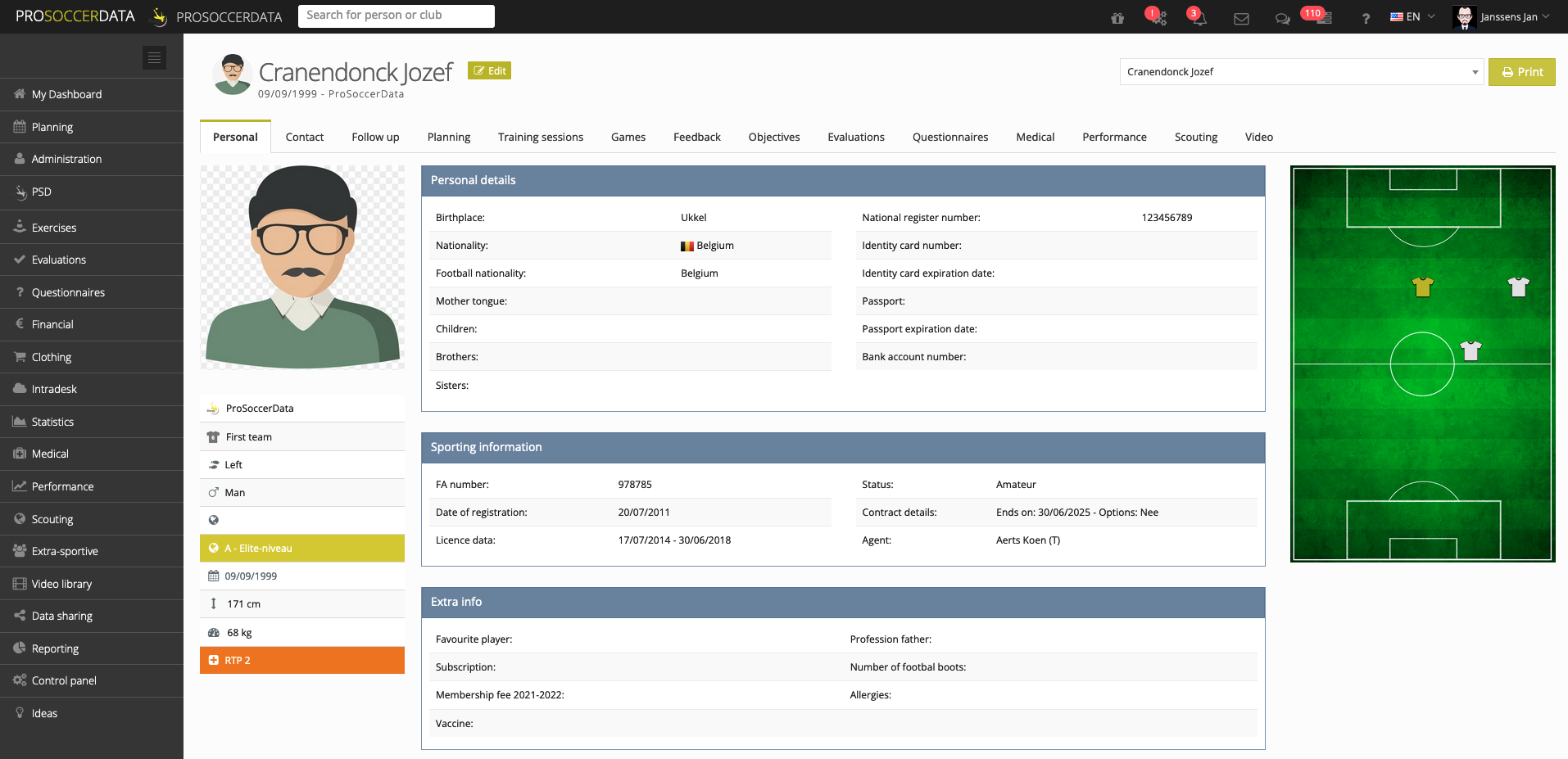 Contact: Contact information for the player and the school where the player attends classes.
Follow up: Add random notes to a player. Here you can also link a document to his/her profile and determine who has access to see your notes.

Planning: Here you can find the individual schedule of the player. Consultations, activities and absences can be added to the individual schedule here.
Training session: Check whether a player was present or absent from a training session and read the comments the coach made about his/her training performance.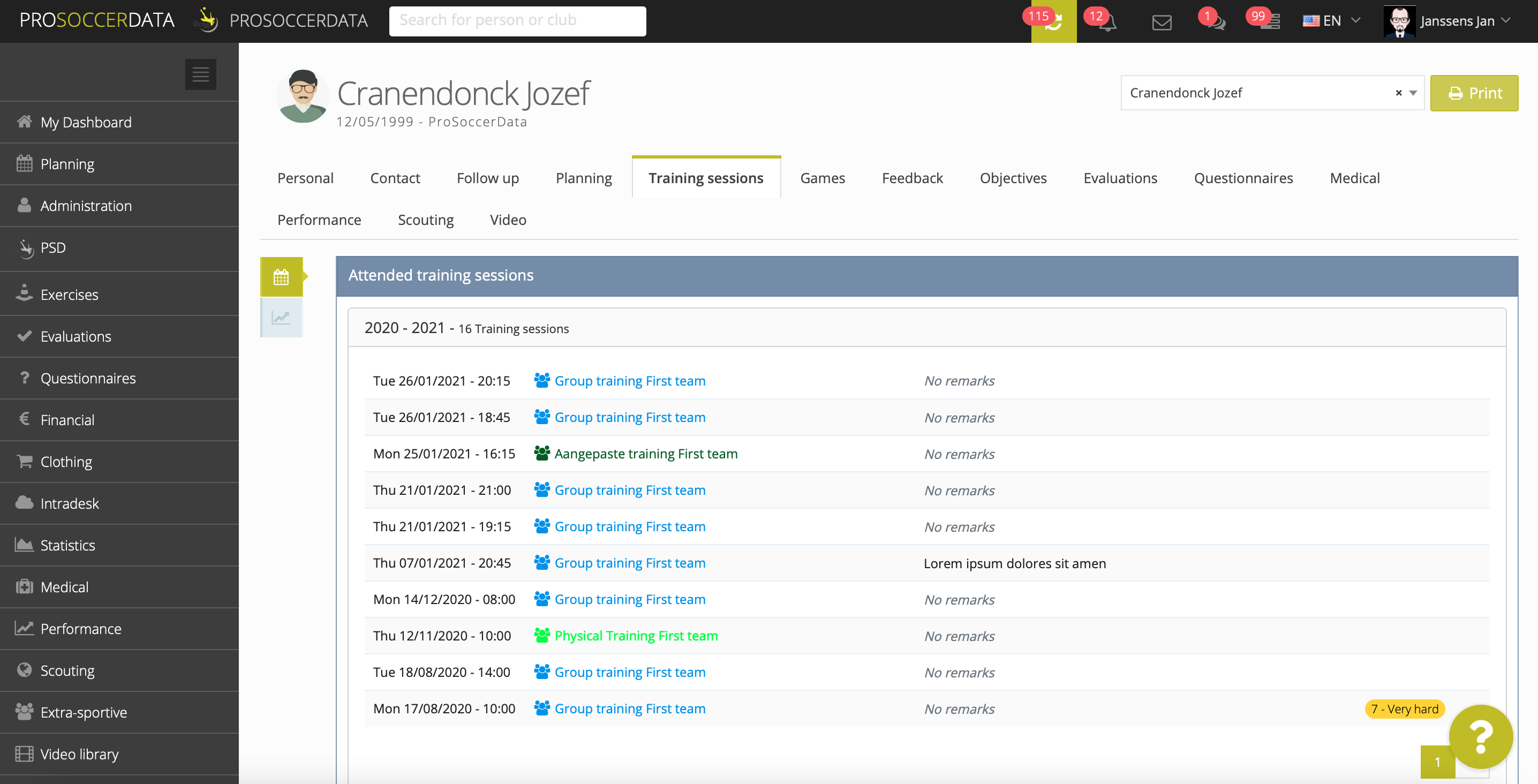 Games: Check the statistics of a player during his/her games. All the game information of a player that the coach has provided in the game reports is maintained here.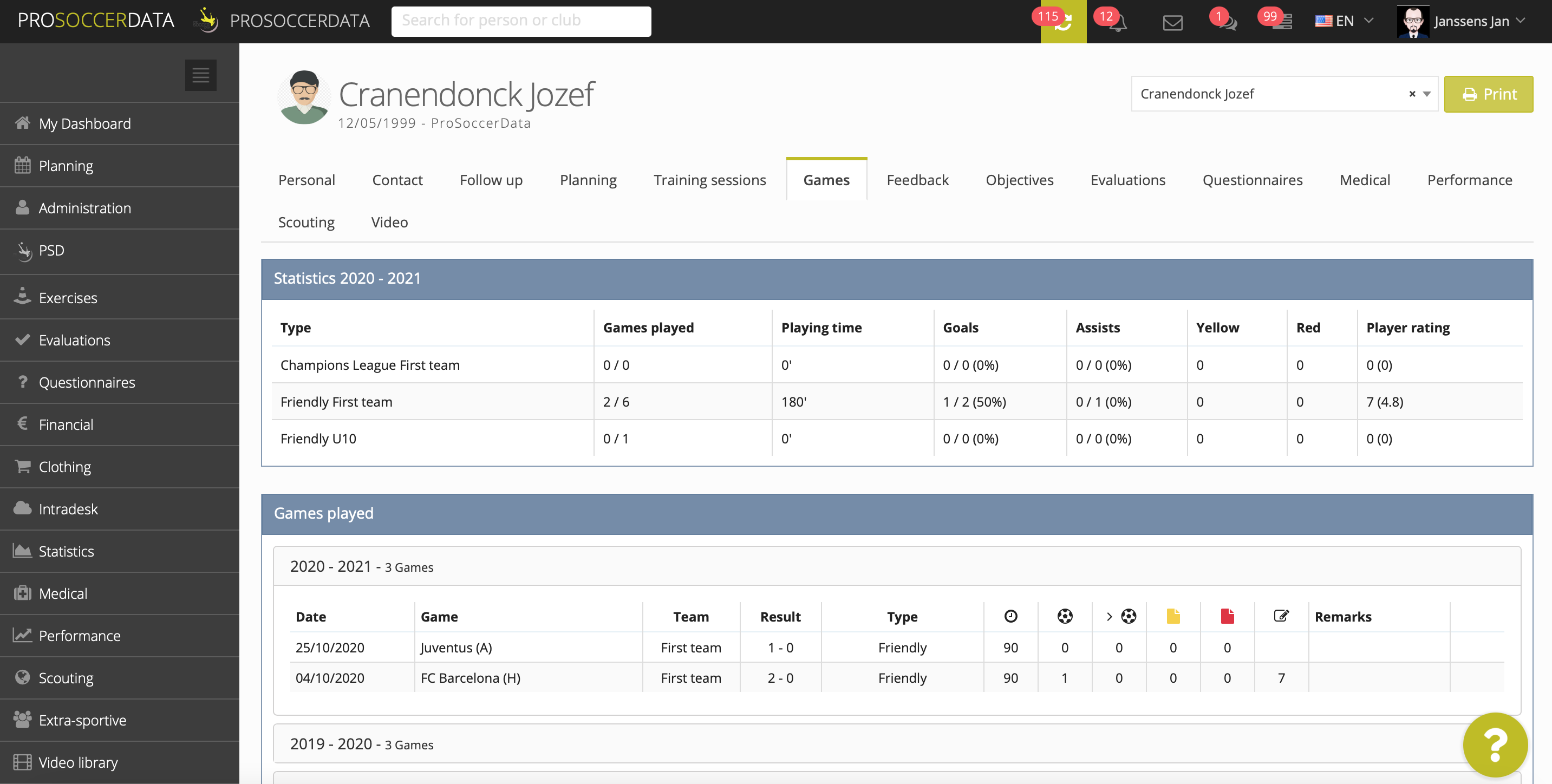 Feedback: Use this feature to give direct feedback to a player. The player will be able to read the feedback you have given. You can add a new feedback by clicking the green 'Add feedback' button.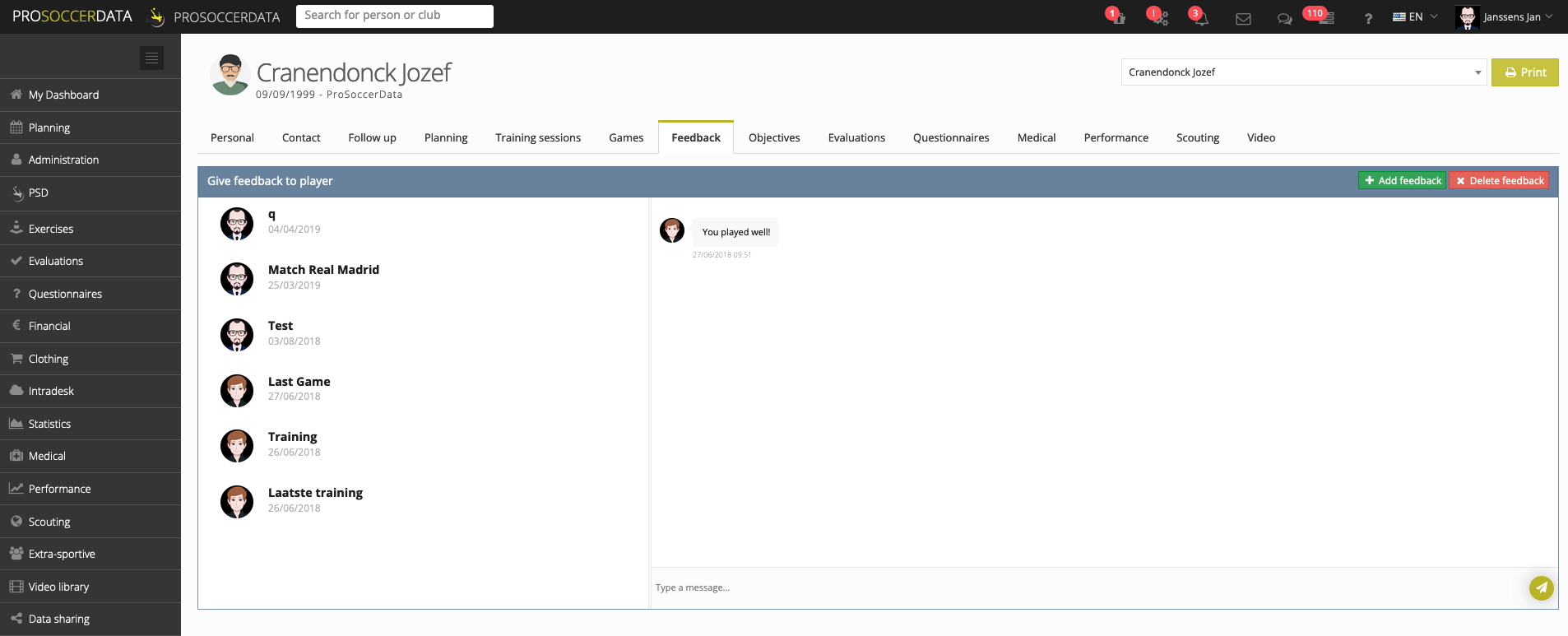 Objectives: Create new objectives for the player that he/she should achieve after a certain period of time.
Evaluations: Here you can view the evaluations that a coach or staff member has completed for a player. These evaluations are only visible to members who have the appropriate reading rights.

Questionnaires: Here you get an overview of the completed questionnaires by this player (or coach). By clicking on the green 'eye' button, you can start viewing the player's answers to a particular questionnaire.
Medical: Keeps track of the player's biometrics (height, weight, fat percentage). This page also contains the player's injury history.
Performance: The results that were entered in the Performance module are displayed under this tab, here you can then compare the results with a set benchmark or a test from the past.
Scouting: In this tab, if a scouting report has been made on this player, you can find previously made scouting reports.
Video: In this tab you can view all the videos in which a player has been tagged. It is an overview of all the clips in which he/she participated. You can watch the video by clicking on the 'Play' icon.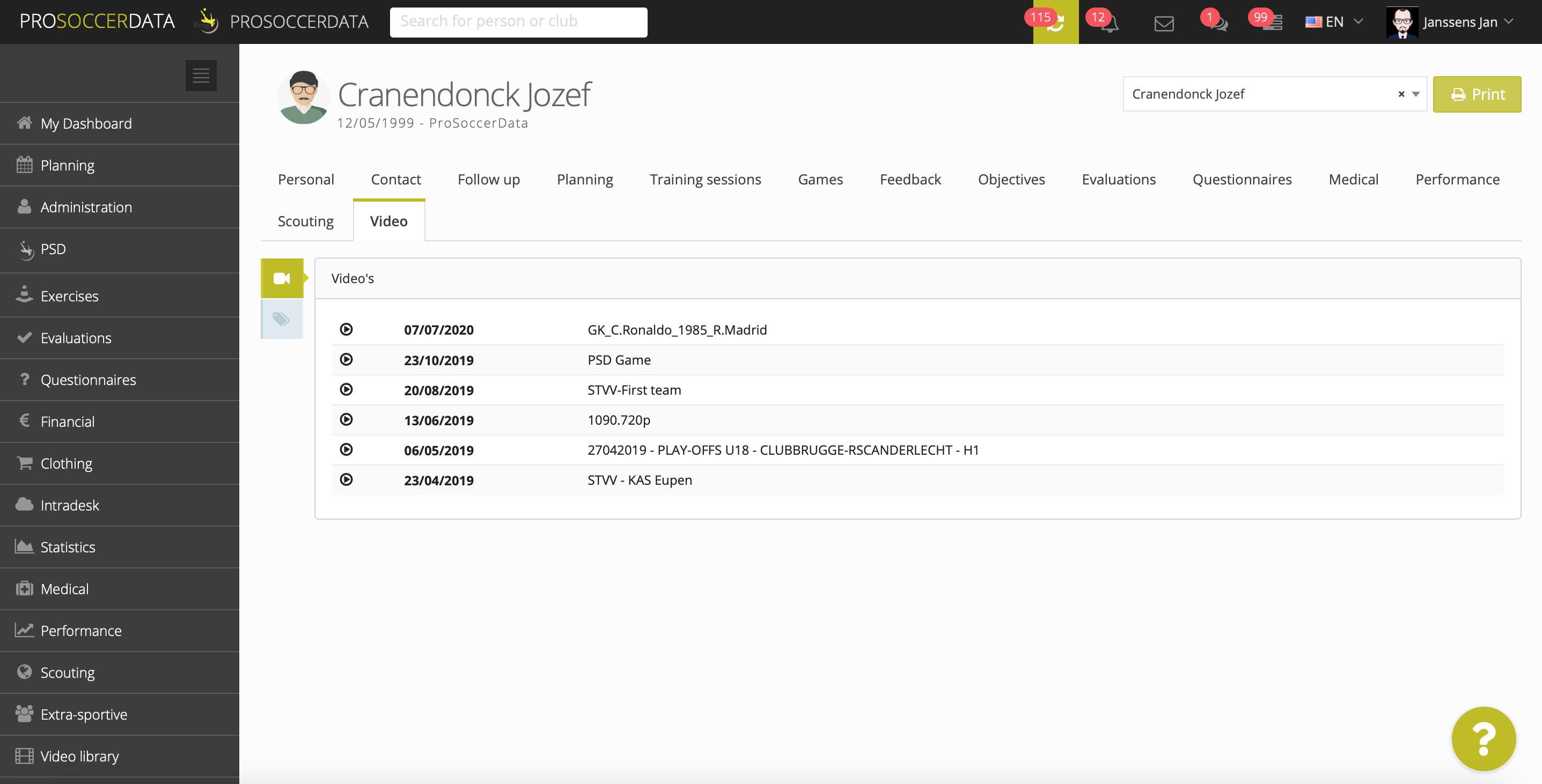 Print player profile
The player profile can be printed via the yellow button at the top right of the page.

Here you then have the possibility to choose which information (depending on the active modules on your platform) you are going to request. When you download the file (via the 'Print' button) the file will be prepared, once the file is ready for download you will be notified by e-mail.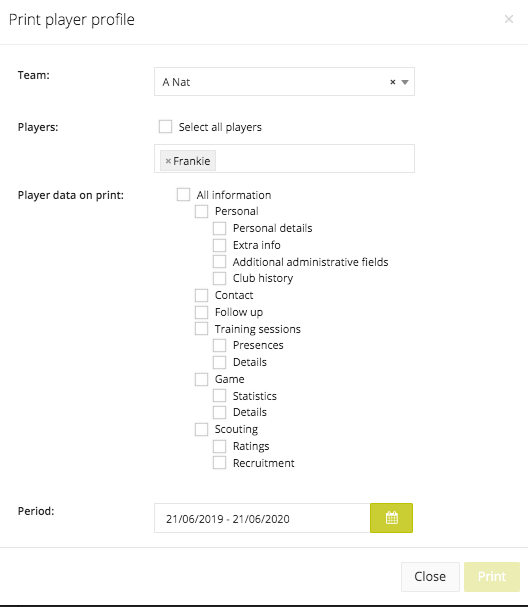 ---
Questions about this article? Send an e-mail to support@prosoccerdata.com
---